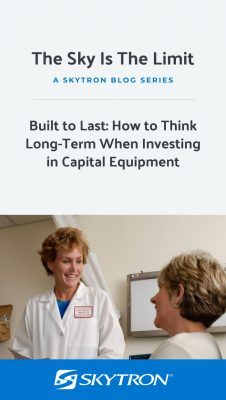 When it comes to acquiring capital equipment for your healthcare facility, we know it's not an easy feat. Sometimes the approval process can be years in the making. You have to jump through hoops, work with facility-approved vendors, get clinical staff on board, and get financial approval. Most importantly you need to feel confident you're not buying a mistake. The buying process is lengthy and you have likely invested your own blood, sweat, and tears into the process. That said, we want to provide you with some tips for making a sound capital equipment investment, and entertain the top consideration that should be front of mind as you. Will this mammoth purchase stand the test of time and be an asset to our organization over the long haul?
Making a Sound Investment
As you navigate the plethora of product options available to your facility here are a few questions to ask as you do:
1. Have we involved the correct clinical teammates in the trial and buying process? To include not only physicians but also supply chain, operating room clinical staff, infection prevention, and sterile processing management.
2. As we seek approval, (once the product is validated as a solution for patient safety) have we built a business case to improve our chances of capital equipment approval?
3. Have we considered multiple options and products to determine the best clinical and long-term outcomes?
4. Have we asked the vendor to provide examples of where they have successfully implemented their product historically?
5. Have we asked the vendor to help us build our business case from a financial and clinical perspective?
6. Have we asked what the total cost of ownership will be over the long run?
7. Have we asked what the support, education, and service will look like once we have the product in-house?
These are 7 broad and yet very important questions to keep in mind as you navigate the process of acquiring capital equipment. Your other key component will be assessing the longevity of the equipment.
Making a Purchase with the Future in Mind
As you consider your capital purchases keep in mind that whatever selection you land on should:
Be able to evolve as your workflow and procedural demands change
Have a proven record of expected lifespan & total cost of ownership, showing you what the cost breakdown would look like over this time. Often times the price tag looks exceptionally high at first glance, but when broken down over its lifetime proves to have a lower per year cost of ownership.
Help to create a safer environment for patients and staff
Have local support and repair capabilities
Have local representatives able to explain and educate on the Instructions for Use
These questions and considerations are not all-encompassing when it comes to purchasing your capital equipment, but should get you thinking about additional items maybe you hadn't before. If you have asked these questions, it may help ease the stress of your capital equipment acquisition giving you some peace of mind that you are not buying a mistake.
Skytron is the Healthcare Efficiency Specialist, providing full-room solutions of capital equipment, architectural and real-time information systems for Medical, Surgical, Sterile Processing, and Infection Prevention. Our solutions enhance the utilization of people, facilities, and capital because they are designed with the user in mind and have a low, long-term cost of ownership. Our core values include partnering philosophy, integrity, superior & pioneering solutions, and long-term focus.
To learn more, visit our website at Skytron, LLC