Think of Your Hospital's Future: 3 Capital Equipment Considerations
When it comes to acquiring capital equipment for your hospital, the journey from concept to reality can be lengthy and intricate. As a seasoned clinical decision-maker, you know that this process involves more than just selecting the right technology; it's about ensuring a future-ready solution that aligns with your hospital's goals and operational efficiency. While surgeons' preferences and cutting-edge technology are pivotal, let's delve deeper into three crucial factors that often go overlooked in the pursuit of acquiring capital equipment: a partnership beyond sales, unparalleled expertise, and unwavering service excellence. These considerations can profoundly impact the long-term success of your investment and mitigate the risk of unforeseen expenses.
1. A Partner, Not a Salesperson
Choosing the right vendor goes beyond selecting a product; it's about finding a partner who understands your hospital's unique needs and is genuinely invested in your success. At Skytron, we don't view ourselves as mere salespeople; we're your partners in elevating healthcare delivery. We recognize that every hospital has distinct requirements, and we take the time to comprehend your challenges, goals, and aspirations. This partnership mindset extends far beyond the initial sale. We work with many incredible representative firms because they are local and elevate accessibility. And they can understand your unique needs as only a community member could.
We believe in building enduring relationships by providing ongoing support, fostering open communication, and proactively addressing your evolving needs. Our commitment to your hospital's success doesn't end with the transaction; it's a continuous journey of collaboration and support that ensures your investment thrives and evolves along with your institution's growth.
2. Experts for a Reason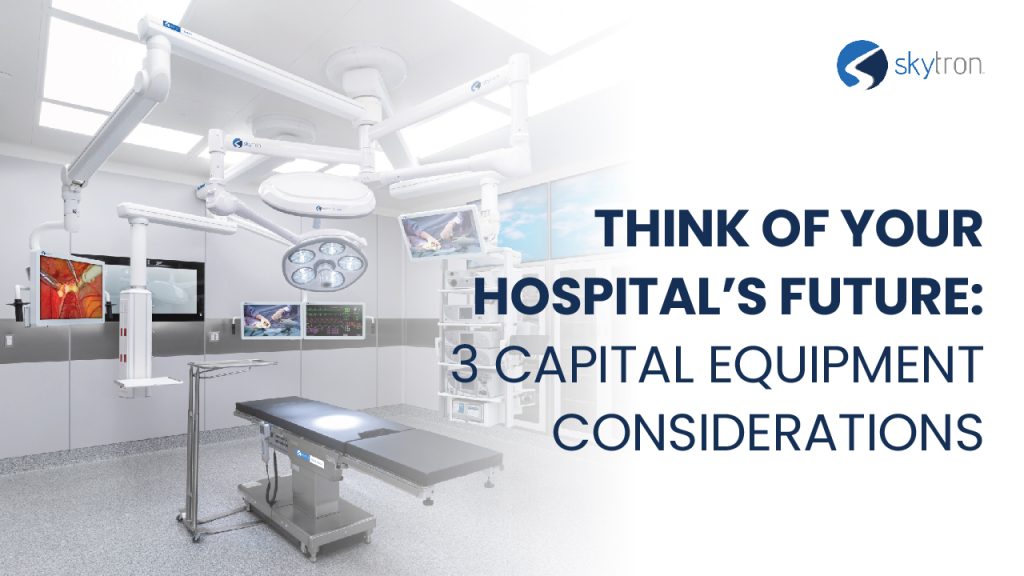 In the complex landscape of healthcare, expertise matters. When investing in capital equipment, you deserve a partner with a deep understanding of both your technology needs and the challenges unique to your facility. We take pride in our team of experts with a wealth of knowledge and experience in healthcare solutions. Our experts aren't just there to sell you a product; they guide you toward the best-suited solution for your hospital's required capabilities.
Our commitment to expertise doesn't stop at the point of purchase. We understand that the success of your investment hinges on proper utilization and integration. Our team remains at your side to ensure seamless implementation, comprehensive training, and ongoing support. Our service engineers keep your systems working at their best long after installation. From emergency support to preventive maintenance plans and training solutions, our team is poised to ensure your equipment's long-term safety and reliability. With us, you're buying equipment and investing in a partnership backed by unparalleled knowledge.
3. Above and Beyond Service
When you invest in capital equipment, you're committing to the future of your hospital. It's not just about the present moment; it's about ensuring your asset's longevity, reliability, and performance for years to come. Skytron's Assure Service Programs epitomize our dedication to providing more than just products – we offer peace of mind.
Our Assure Service Programs are designed to provide you with the utmost confidence in budgeting and solution performance. We understand the importance of predictable expenses and minimal downtime. This translates to reduced risk, optimized operations, and a seamless healthcare delivery process.
Discover the Skytron Assure Programs
As a clinical decision-maker who has weathered the storm of hospital equipment procurement, you understand the gravity of every choice you make. The Skytron Assure Programs empower you to envision your hospital's future with renewed confidence.
We are not just a provider of capital equipment; we're your partner in building a resilient healthcare institution that thrives in the face of challenges. Our commitment to partnership, expertise, and unwavering service sets us apart and gives you confidence that you've purchased a long-term solution versus a mistake.
Secure Your Hospital's Future Today
When investing in capital equipment, remember that you're not just procuring a product; you're actually investing in what lies ahead for your hospital. By considering three crucial elements: a partnership-driven strategy, expert guidance, and exceptional service, you're on the brink of a decision that will carry implications far beyond the immediate transaction. Our dedication revolves around converting your investment into a strategic asset that will drive your hospital's triumphs. Don't settle for mediocrity; opt for Skytron's Assure Programs and ensure a future marked by seamless operations, minimized risk, and unparalleled support.
Ready to learn more about our Skytron Assure Programs? Contact us today to discover how we can elevate your hospital's journey toward excellence. No unplanned expenses, faster equipment uptime – because your hospital's future deserves nothing less. Check it out here.