For more than 50 years, ASCs have provided high-quality, cost-efficient surgical care for millions of Americans. ASCs have become the future of care albeit the fact that we are all aware hospital margins remain far below pre-pandemic levels. "To say that 2022 has challenged healthcare is an understatement…it's unlikely that hospitals and health systems can undo the damage caused by the COVID waves of earlier this year, especially with material and labor costs at record highs this summer." 1 From inflation, staffing, decreased Operating Room minutes, and reimbursement challenges the landscape has been challenging in our industry. Yet, statistically, one arena that continues to thrive is Outpatient and Ambulatory Surgery. In this write up we will define ambulatory care and its history, the benefits and stats, and the changes as well as trends happening today.
Definition & History
The Medicare Payment Advisory Commission defines ambulatory care as "medical services performed on an outpatient basis, without admission to a hospital or other facility." 2 The basic definition of ambulatory surgery is any surgical procedure performed that allows the patient to leave the facility the same day. It is also sometimes called minimally invasive, same-day, or outpatient surgery. Many ambulatory surgeries are minor procedures without long recovery times. The first ASC was established in Phoenix, Arizona in 1970 by two physicians who wanted to provide timely, convenient, and comfortable surgical services to patients in their community, avoiding more impersonal venues like regular hospitals.
Considerations & Benefits
Healthcare systems are continually navigating ways to partner with or acquire ownership of ASCs with the industry-wide push for value-based care. "Health plans pressing for the implementation of value-based payment contracts, ASCs afford providers and administrators a more efficient surgical setting, reducing payer costs. Government payers, organized provider networks, self-funded employer health plans, and other organizations at risk for rising healthcare costs are increasingly encouraging patients to use ASCs."3 About two-thirds of ASCs with hospital or health system ownership are set up as joint ventures with physicians. The changing competitive landscape among hospitals, health systems, and physicians interested in investing likely will result in continued growth in ASC volume. The rising growth of ASCs is beneficial not only to physicians and healthcare systems but to patients alike.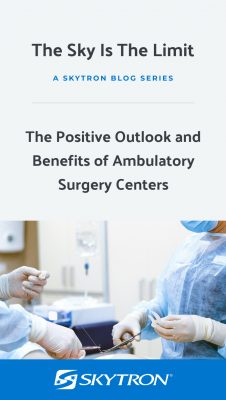 ASCs will benefit the healthcare industry in numerous ways. For instance, ASC procedure costs are 60% of hospital outpatient department (HOPD) procedure costs.
Additionally, Medicare will save over $2.4 billion annually if 50% of eligible procedures are performed at an ASC instead of an HOPD. 4
Physicians can also reap benefits from ASCs. Some of these benefits can include increased control of surgical practices, proper equipment usage, and optimal facility design.
There are numerous benefits for patients that utilize ASCs, too. These can include increased access to quality care, improved patient outcomes, quality service, and increased financial efficiency, and lower costs.
The Numbers & Trends
Key facts and data from MedPac on common ASC characteristics include:
 Since 2015, the number of ASCs has been growing by an average annual rate of just above 2.0%, reaching 5,930 ASCs in 2020 (up from 5,352 in 2015)
95% of ASCs in 2020 were for-profit facilities, and 93.4% were in urban settings
Most ASCs have partial or complete physician ownership
Most ASCs (64%) are single-specialty; the remainder are multi-specialty
Medicare payments account for just 20% of ASCs' overall revenue
Gastroenterology and ophthalmology are the most common single specialties, each representing 20% of all ASCs, while pain management and orthopedics are the most common multi-specialty combination, representing 4% of all ASCs
Cardiology is the fastest growing single specialty, with a more than tenfold increase from 10 ASCs nationwide in 2015 to 106 in 2020 5
Lower surgical costs and higher quality care drive this "trend" today and experts say that "As health systems look to the future, the surgical volume will continue shifting from HOPDs (hospital-based outpatient) to ASCs: it is not a question of "if" but "when." 5
We all hope to see an improved continuum of care and ASCs have the ability to control the patient journey in a more regulated setting. The multiple benefits of this setting have proven to be a winning formula that continues to gain momentum.
Skytron has recently partnered with Arthrex (a global leader in minimally invasive surgical technology) on July 25th in an effort to offer a comprehensive array of total-room solutions designed to address the future needs and challenges of operative care
facilities. Skytron and Arthrex see the value in innovation and collaboration. As global leaders in medical device manufacturing and surgical technology, this partnership allows both companies to integrate their products and procedures into both hospitals and surgery centers, providing more access to a wide array of surgical options. To learn more about the collaboration and FAQs visit Skytron, Arthrex Announce Partnership to Address Operative Care Facility Needs – Skytron, LLC

Citations