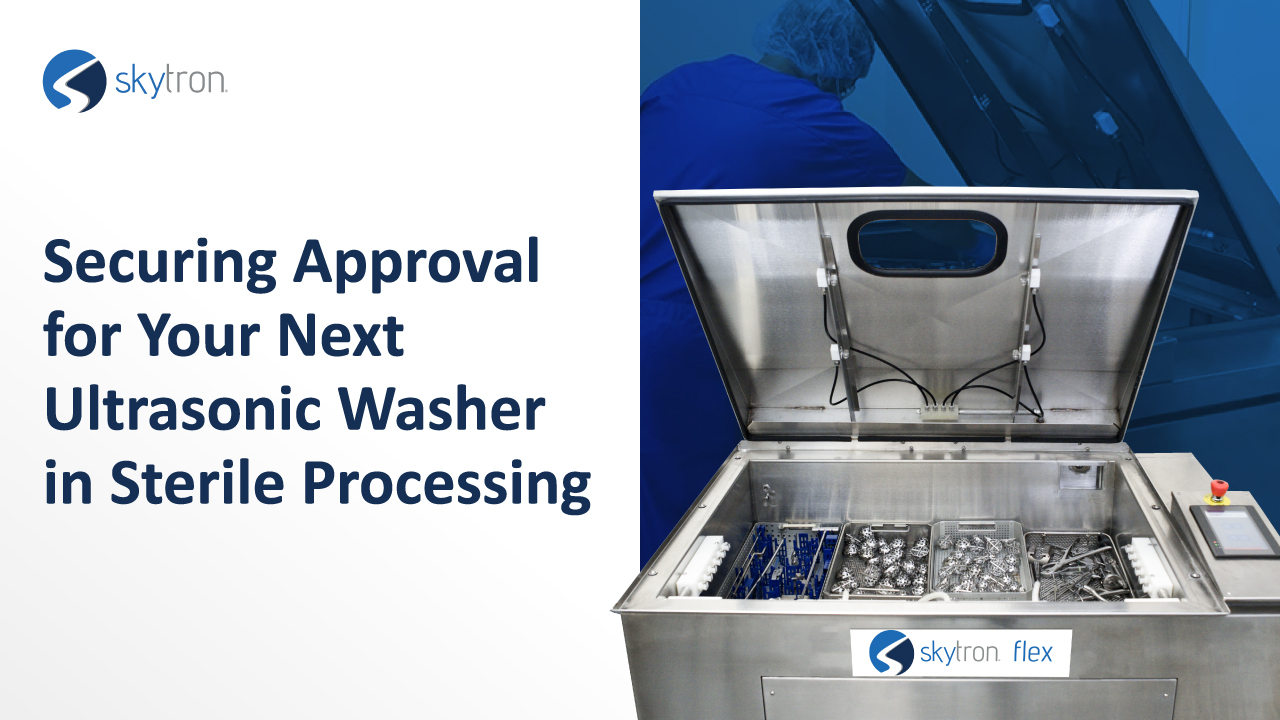 Is your Sterile Processing (SP) department in need of a new ultrasonic (US) washer-disinfector? You've maybe been limping along your old dinosaur model for years, but the needs of your department and the surgery volumes have changed and it's simply not cutting it anymore. In this write-up, we will walk you through the types of ultrasonics on the market today, how to understand your asset-to-need ratio, and some considerations to help increase the odds of getting capital equipment approval from decision-makers at your facility today.
Types of Ultrasonics 
According to AAMI ST79/2017 7.6.4.3.3 Selection of Mechanical and Disinfection Equipment2: there are several types of Ultrasonic cleaners:
Ultrasonic cleaning equipment
Ultrasonic irrigators
Ultrasonic irrigator washers
Ultrasonic irrigator washer-disinfector
The type of ultrasonic your facility needs will vary based on the instrumentation you have in-house, surgical volumes, and surgical specialties that take place.
Understanding your asset-to-need ratio
When purchasing an ultrasonic (US), you must first determine what type of US you need based on your facility. For example; if you are a high-volume orthopedic facility or one that reprocesses multiple robotic arms your needs may be very different from
that of an ambulatory center that primarily performs simple outpatient/general procedures.
Case volumes will also be a key factor in the equipment type needed. Are you a high-volume facility with over 10 ORs and a case volume of more than 50 daily? You'll need to bring in a larger unit that has higher load capacities than if you have plenty of turn time between cases and lower volumes.
Additional considerations may include:
Can we run a mixed load (da Vinci, Orthopedic, cannulated, and non-cannulated instrumentation) in this ultrasonic?
What is the weight capacity?
How long is the cycle, and does it provide thermal disinfection and critical water final rinse?
Regarding critical water, here are the standards:
Critical water AAMI Standards TIR34 (5.2.1.3 Rinsing)2
Tap water is often adequate for rinsing and removing soil loosened by the cleaning process and for rinsing and removing detergent residues, provided that it meets the requirements for Utility Water. However, if the quality of the tap water could cause corrosion, tarnishing, or salt deposits, it might be necessary to use various water treatment processes (e.g., softening, deionizing) to ensure that devices are not damaged, and the ensuing disinfection or sterilization process will be effective. For devices that will contact the bloodstream of other sterile areas of the body, the final stage in rinsing requires water that does not have excessive levels of organics (e.g., endotoxins or other microbial constituents); therefore, critical water is recommended.
Justify it 
Now that you understand the types of US washer disinfectors and some additional guidelines & industry standards, you might have a better idea of what units will meet your needs from a clinical perspective. Here comes the fun part, getting approval for the unit.
Building a case for your needs will require more than an email and a request filtered through multiple chains of command. The C-Suite is all about a business outcome and how your proposal can benefit the organization. How will approving your capital request help them with their problems? Find an angle that they can connect with:
This has three parts.
Define the patient safety risk you want to address. For example, your department needs a borescope, a small video scope used to examine lumened devices. Without it, you cannot ensure that devices are safe for patient use, the liability of bioburden left inside could exceed the investment of the device itself, and specific IFUs call for it to be used to assure sterility.
Second, define the potential benefits of adding this asset to the inventory. In this case, it verifies that the device used on patients meets all sterility parameters and reduces the likelihood of a citation from regulatory agencies.
Finally, describe how this capital acquisition fits your organization's mission. For example, the mission of Cedars-Sinai is "Quality patient care is our priority. Providing excellent clinical and service quality, compassionate care, and supporting research and medical education are essential."1
This mission directly states that quality patient care, excellent clinical quality, and medical education are top priorities. For example, by having a borescope, we can help ensure that clinical quality is delivered, and the nurses can continue to deliver compassionate care without being slowed down by unexpected debris, case delays, and liabilities. When writing your proposal, speak directly to how your department's needs align with the mission.
Partner with vendors
Your vendors can and will be your best friend when it comes to building a case for your purchase and they can provide you with the numbers and metrics your higher-ups will need to see. Remember, you don't have to be the technical expert and know every product specification. Let them do the leg work and help build your financial case.
Questions to ask your vendors.
How does your product lend to patient safety needs?
What differentiates your device from others that are similar?
Can you help me build a financial case for my decision-maker to seem more interested? Remember that sales representatives are trained to help build your case; there is no need to reinvent the wheel.
Do you have photos, IFUs, or case studies that support my case?
If you ask these questions and partner with your vendor to build your case it can never hurt. They can also usually help you get creative on purchases.
Having the correct ultrasonic washer-disinfector in your department will increase efficiency, elevate patient safety, and aid in your facility remaining compliant. Hopefully, after reading this article, you can now identify the types of ultrasonics, get a grasp on your need-to-asset ratio, be able to justify better and present your need, and you are armed with how to best partner with vendor representatives. The correct ultrasonic, presented in the right way, may help you get that archaic dinosaur US booted from your facility for good!
To learn more about the Skytron Flex Ultrasonic Washer-Disinfector, and what makes it the workhorse your facility needs, watch this YouTube video:
For additional details and specifications visit Flex Ultrasonic Washer Disinfector | Skytron Products
Citations:
All AAMI Standards & Guidelines should be readily available in your facility, and if you do not have a copy, the direct regulations can be found/purchased here