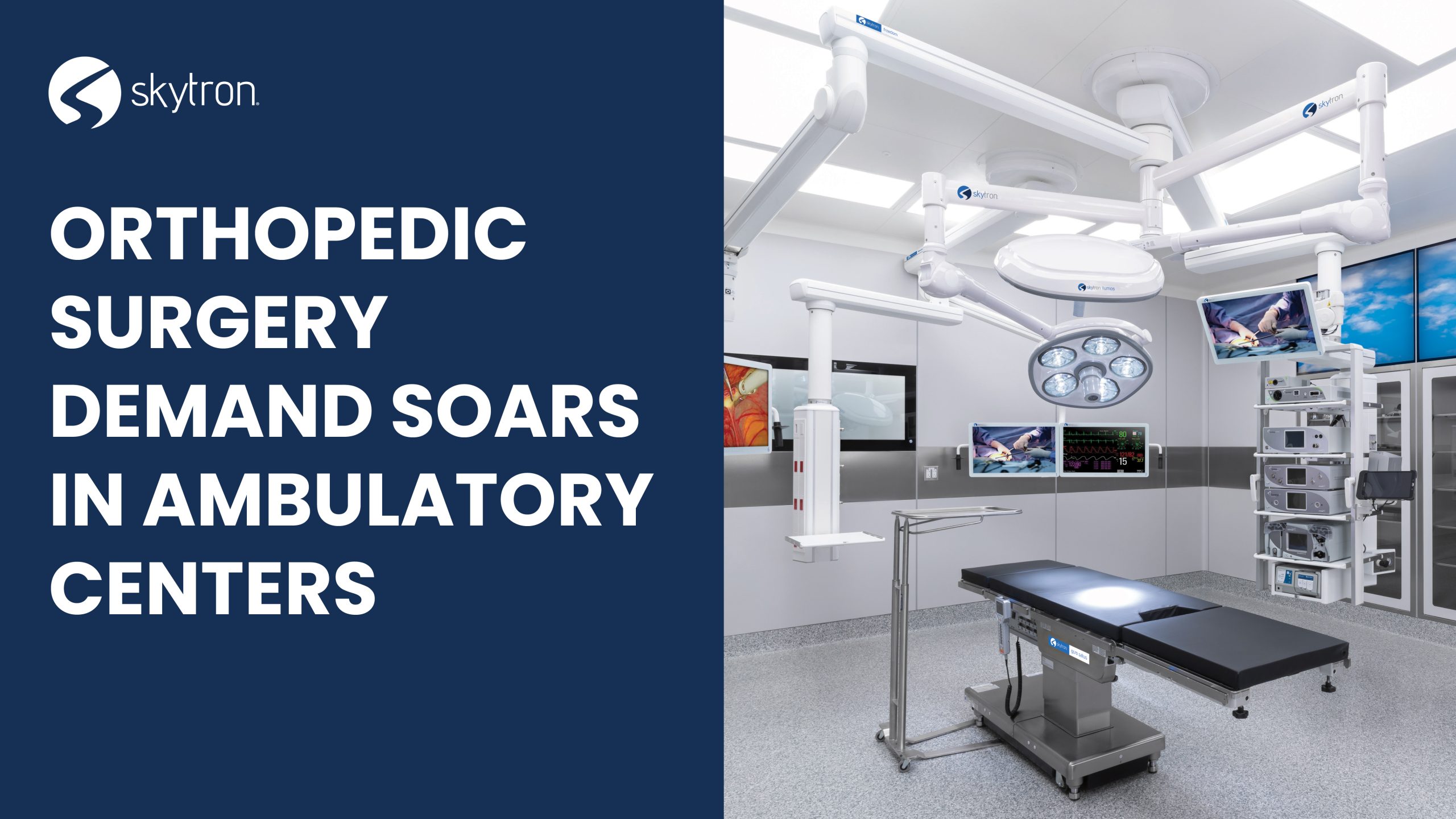 Orthopedic Surgery Demand Soars in Ambulatory Centers
We all know that the shift to Ambulatory Surgery Centers (ASC) continues to rise; this isn't breaking news. However, a dramatic shift and focus on orthopedics in ASCs continues to skyrocket. In this write-up, we want to highlight why it's happening, some surrounding metrics, and how staff will need to shift as technology and demands rise.
Rising Demands
Surgical volumes steeply declined in 2019 during the COVID-19 pandemic and sharply rebounded in 2021. "Beginning in 2022, we returned to a pattern of slow, steady growth in surgical volume in part due to an increase in the total U.S. population. However, we also see that the number of Americans 65 and older will increase more rapidly than the overall population and will reach 19.3% of the total population by 2026. These population shifts will increase our surgical workload."1
As the number of older patients continues to rise, there is expected to be an accompanying increase in minimally invasive orthopedic surgical procedures, revision knee arthroplasties, hip arthroplasties, and various spinal surgeries
With an increase in demand comes additional challenges in this surgical setting. According to John Ryan, CEO of OrthoIndy, in a Becker's ASC Review article, "I think the three most significant are procedure volume, payer contracting and case mix. Any one of these three challenges can mean the difference between an ASC that is successful and one that fails. I am no doubt biased, but orthopedics is a single solution to address all three of these challenges."
Market Segments & Metrics
In 2022, the market size of ASCs in the U.S. reached a value of USD 36.8 billion. It is projected to experience a compound annual growth rate (CAGR) of 6.00% from 2023 to 2030. The growth of this market can be attributed to increased investments in ASCs and the favorable reimbursement policies for services provided at these centers in the U.S. In January 2022, the Centers for Medicare and Medicaid Services (CMS) revised the eligibility criteria for Medicare reimbursement, eliminating the requirement for compulsory inpatient procedures at ASCs. This change allows for reimbursement of outpatient services, further contributing to positive market growth. The favorable reimbursement for surgical procedures is a key driver behind expanding the ambulatory surgery centers market (see the full report in citation 3 below).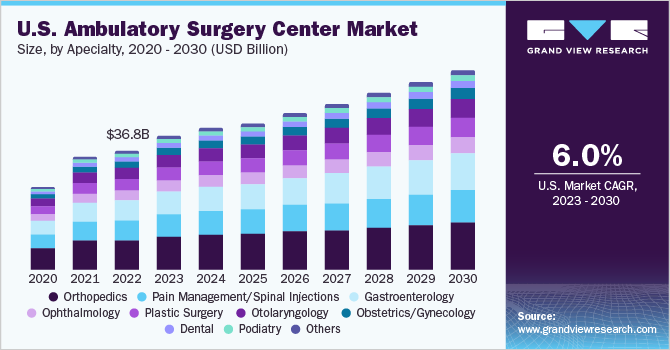 The market has been categorized by specialty, including orthopedics, pain management/spinal injections, gastroenterology, ophthalmology, plastic surgery, otolaryngology, obstetrics/gynecology, dental, podiatry, and others. In 2022, the orthopedics segment held the largest market share, accounting for 27.4%. This significant share can be attributed to advancements in diagnostic methods and imaging technologies within orthopedic surgeries and the consistent developments made by market players operating in this segment. See the graphic below for the growth projections in the various specialties. Photo Source link here.
Staff Demand Shifts
As expected, with an increase in case volumes will come the demand for more qualified nursing staff to support it. With the increasing shift of surgeries to ambulatory settings, perioperative and perianesthesia nursing must adapt their focus and skill set accordingly. As complex cases are being moved away from inpatient settings, our workforce must transform. For instance, when total knee procedures are performed on an outpatient basis, the demand for nurses in the post-surgical unit decreases as it is no longer required. However, in the ambulatory setting, nurses need to possess a broader range of skills, including pre-surgical and post-surgical care, in addition to their expertise in intraoperative care.
As healthcare continues to evolve and our population demands greater emphasis in the orthopedic space, Skytron is dedicated to an innovative approach to our technology. We will continue to educate you and provide superior and innovative solutions supporting your facility with long-term solutions. Our partnerships with organizations like Arthrex will only help us serve you and your ASCs at the highest level possible.
Citations:
1. OR Today | Surgical Demands Impact Staffing
1. ASC Review | The rise of orthopedics in ASCs
1. Grand View Research | GVR U.S. Ambulatory Surgery Centers Market Size, Share & Trends Analysis Report