Twice a year, the halls of AAMI headquarters become filled with conversation, debate, and laughter as thought leaders from around the healthcare space come together for Sterilization Standards Week. But what is this event all about? We are here to provide you with a recap as it relates to our industry, as well as some great interviews that AAMI Connect aamiconnect – YouTube provided online with the intention of helping you keep your finger on the pulse of important events and how they affect you.
What is Sterilization Standards Week, and how is it part of the standards process in general?
Matthew Williams, the VP of Standards at AAMI, states:
"Fortunately, or unfortunately, standards aren't developed overnight, so it's a long process that can take a few months or a few years. We bring together the stakeholders multiple times a year if we can, sometimes they're over phone calls, but it's important to get the stakeholders face-to-face so we can get these standards developed and move it on through the process."
Who is involved?
Primarily, the professionals can be categorized into three main groups: industry stakeholders, user stakeholders, and government regulatory bodies. The industry stakeholders include medical device manufacturers, sterile processing equipment manufacturers, testing laboratories, and consultants, highlighting their unique presence in the community. The stakeholders encompass professionals from sterile processing departments, perioperative nurses, endoscopists, physicians, academic researchers, and others, showcasing a diverse range of perspectives that contribute to the development of consensus-based documents. This diversity leads to the creation of reasonably practicable documents, and AAMI always invites individuals to join their committees to enhance representation across these categories. Want to join?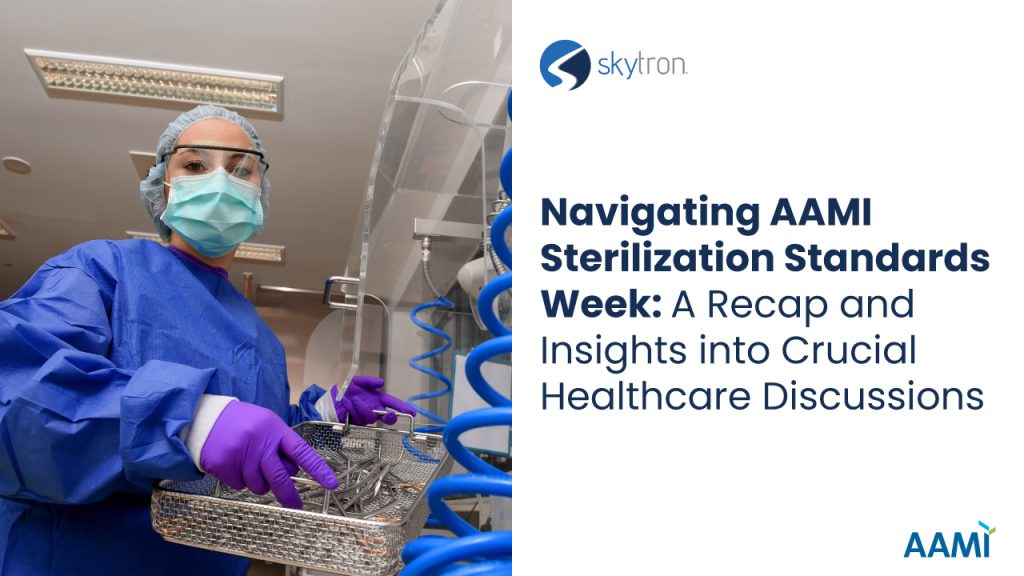 Why are sterilization standards so important to our community?
Amanda Benedict, another important VP of sterilization at AAMI, shares that there are two groups focused on sterilization: industrial sterilization and healthcare sterilization. Industrial sterilization is centered around processes used in industrial settings, while healthcare sterilization focuses on processes for sterile processing within healthcare facilities. She emphasizes the importance of providing comprehensive guidance to end-users in both sectors to ensure the effective implementation of sterilization practices.
What type of conversations and work took place?
Activities within a working group or committee related to standards development occur throughout the week. This includes a variety of tasks, including resolving comments and objections to proposals, approving new work items, and developing new standards proposals for consideration. The activities depend on the specific stage the group is in. Highlights from the first day of the event include exciting news about the completion of a new document for ultrasound probe processing within the sterilization working group 84, indicating collaborative efforts to finalize it.
Insights from Microbiology Researcher Michelle Alfa
Microbiology researcher and consultant Michelle Alfa who participated in the AAMI summit focused on cleaning verification within healthcare facilities. Dr. Alfa's background lies in clinical microbiology, with a keen interest in hospital-acquired infections and medical device reprocessing. Her recent focus has been on developing verification tools to support healthcare facility users in ensuring effective cleaning of medical devices. The summit aimed to align regulators and industry experts on crucial criteria for cleaning verification and guide end users on its implementation and interpretation. The event included research presentations, with Dr. Alfa highlighting the criticality of proper cleaning, especially for endoscopes, to achieve high-level disinfection or sterilization. She emphasized the significance of cleaning verification tools in providing realistic and timely feedback to the personnel responsible for reprocessing, aiding them in ensuring thorough cleaning and, consequently, effective disinfection. Dr. Alfa stressed that these tools play a pivotal role in medical device reprocessing, helping underscore the importance of precise and consistent cleaning practices. For those interested in the full interview, it would be beneficial to watch the complete discussion.
One of our very own Tina Cole attended this event, and Skytron is dedicated to always keeping a finger on the industry pulse by attending insightful events like this. As Sterile Processing Week rapidly approaches, we are dedicated to raising awareness of the work you do and remaining informed as an organization so that we can in turn serve your departments at the highest level.
To access the full AAMI interview of event coverage visit here.