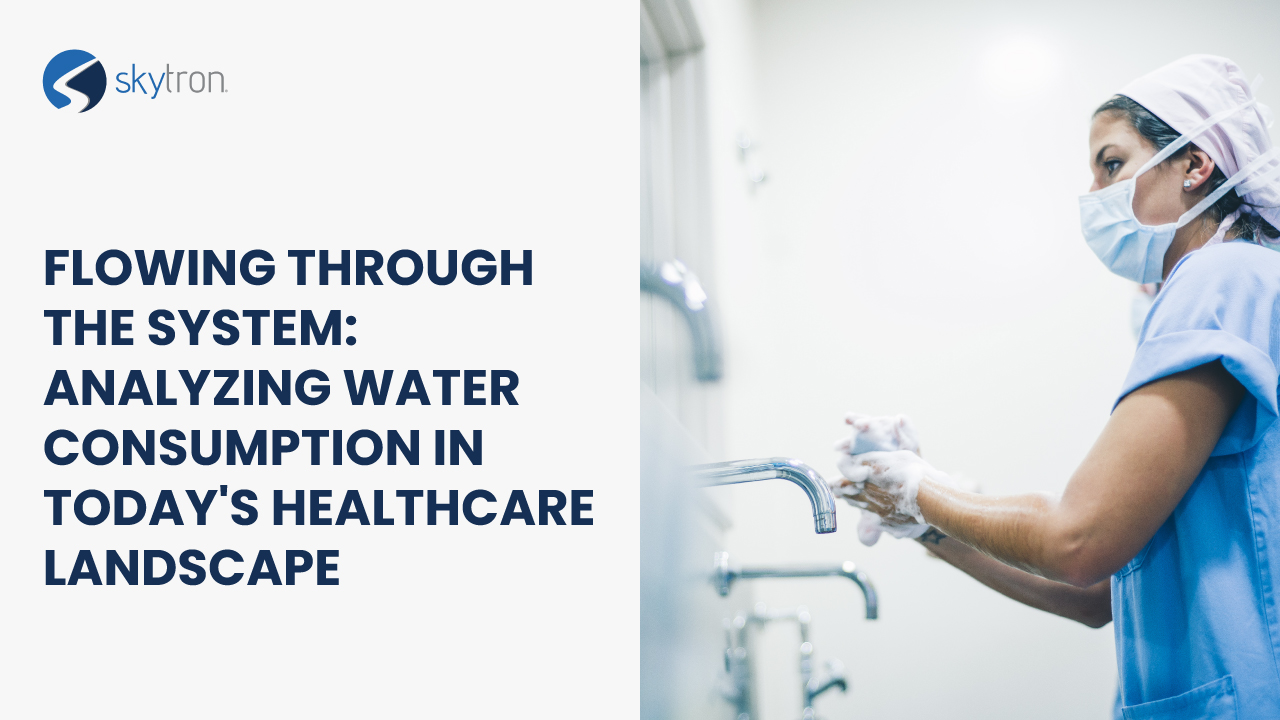 Flowing through the System: Analyzing Water Consumption in Today's Healthcare Landscape
We often speak in Sterile Processing and the Operating Room about critical water and water quality in relation to the impacts on the sterilization process and device longevity. We will visit those areas in a later newsletter, but we want to take a 30,000-foot view of the usage in healthcare today. In this write-up, we will cover the consumption, a percentage breakdown by the end user/amounts used on our medical devices and one way to reduce your footprint with sterilizers built with an economic footprint in mind.
Consumption
Healthcare systems are among a community's largest consumers of water. Consumption, however, varies greatly: Water use per capita ranges from 40 gallons per day to 350 gallons per day, depending on such factors as geographical location; services provided; size, age, and type of buildings; and water-use equipment and practices. A study of seven Massachusetts facilities found the potential for a reduction of almost 20 percent.1
Additional variances take place depending on in-patient vs. out-patient visits, staff attendance, equipment used, age of the facility, and periodic maintenance practices followed.
Usage Considerations & Department Breakdown
So often, as healthcare workers or patients, consumption becomes an afterthought and requirement of providing care.
Here are some additional places usage occurs:
Potable water usage: Potable water is used for various purposes in healthcare facilities, such as drinking, handwashing, bathing, medical equipment sterilization, and general cleaning. It typically accounts for most of the water consumption in healthcare settings.
Plumbing fixtures and fittings: Healthcare facilities often have a higher number of plumbing fixtures compared to other commercial buildings. This includes sinks, toilets, showers, and medical equipment requiring water connections. Upgrading to water-efficient fixtures, such as low-flow faucets and toilets, can significantly reduce water consumption.
Medical equipment: Certain medical procedures and equipment require substantial amounts of water. For example, dialysis machines, cooling systems for medical imaging equipment, and surgical equipment may contribute to increased water usage.
Cooling towers: Healthcare facilities with cooling systems, such as cooling towers, use significant amounts of water for heat dissipation. Implementing efficient cooling tower management practices, such as optimizing cycles of concentration and conducting regular maintenance, can help conserve water.
Landscape irrigation: larger healthcare campuses or facilities with outdoor spaces may require water for landscaping and irrigation purposes. Using drought-tolerant plants, employing efficient irrigation systems, and implementing water-wise landscaping practices can minimize water usage.
It's important to note that water usage can vary widely among different healthcare facilities based on factors such as facility size, patient capacity, geographic location, and facility management practices. Therefore, specific statistics may differ from one facility to another.
Here is a breakdown of one facility to give you an idea of what departments have the highest usage.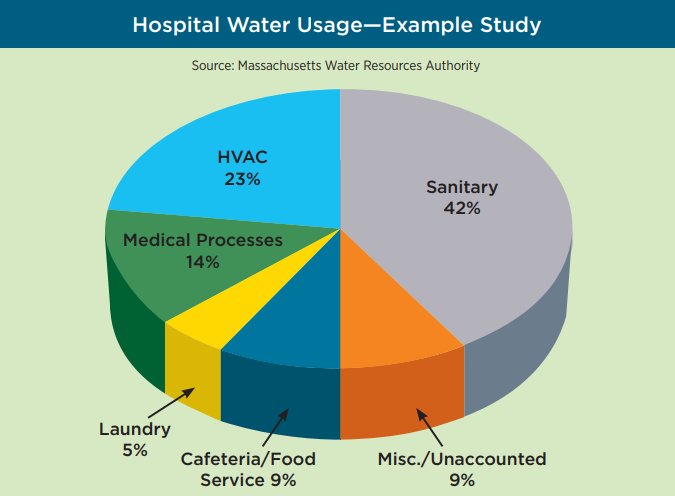 As you can see, 14% of consumption takes place in the execution of medical processes and procedures. This can be related to areas outside of surgery, but let's look at one area where we can use best practices in new equipment purchases.
Innovative Sterilization Equipment
We would love to take a moment to introduce you to our Skytron Integrity sterilizers, which were designed with a smaller footprint in mind from a size and water consumption outlook. We want to highlight some areas here:
Water Recirculation – Save water and floor space

Reclaim water from steam condensation, steam creation, and vacuum
The internal water reservoir maintains a consistent water supply despite possible pressure fluctuations that can result in wet packs or cycle failures
Water temperature in the reservoir is maintained, thereby eliminating the need for additional cold water to meet drain temperature requirements
Water Recirculation System Reduces water use by up to 65% without affecting cycle times. Unlike similar systems, Skytron models are integrated within the cabinet, preserving the unit's tight footprint. Meets or exceeds all AAMI-ST8:2008 standards.

Integrated Steam Generator: An option for hospitals and surgical centers that don't have a facility steam source, our SG models generate their own steam (available on 175 and 215 models).
For full details on our Integrity line of sterilizers, visit here.
Citations:
1. Water Use Case Study: Norwood Hospital | Massachusetts Water Resources Authority