Innovation and impact go hand-in-hand; this week we want to pause momentarily to recognize a local collision of the two that took place in October 2022.
As a family-based, privately held organization for over 50 years, Skytron takes immense pride in local innovations and achievements. This write-up is dedicated to spotlighting one such occurrence locally.
The community in West Michigan is already benefiting from the launch of a new era of advanced cardiovascular care, as leading heart surgeons collaborate to perform open-heart procedures in a state-of-the-art operating room at the University of Michigan Health-West.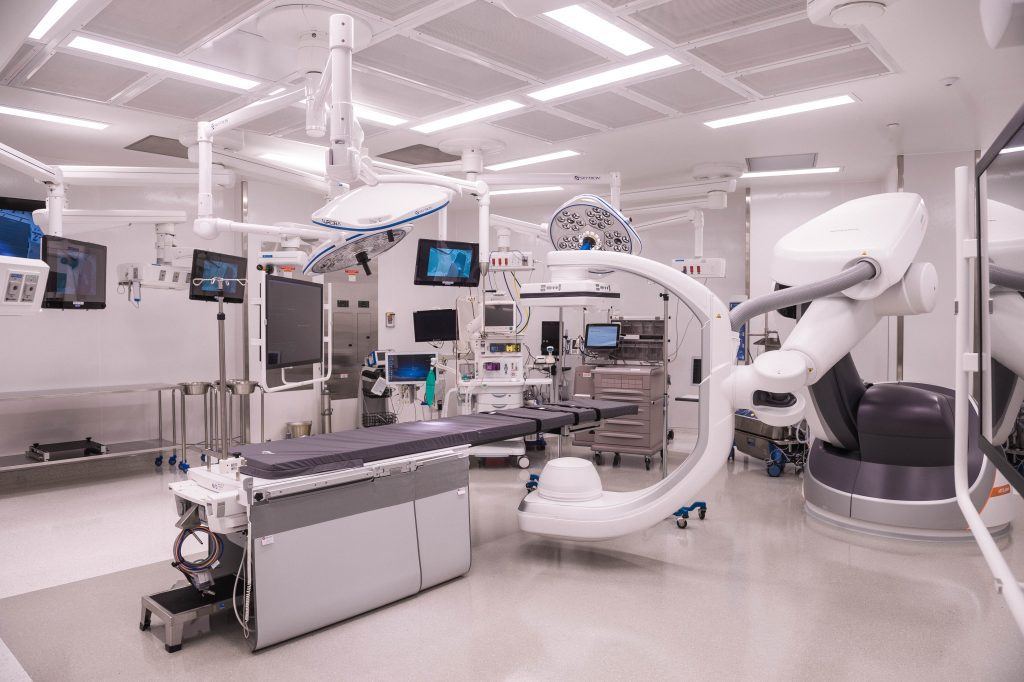 New state-of-the art operating room at the University of Michigan Health-West photo credit
For the first time, patients in the Grand Rapids area now have access to open-heart surgery, thanks to the Cardiovascular Network of West Michigan, a joint venture between three existing heart programs in the region and the nationally ranked expertise of UM's Frankel Center in Ann Arbor.
The initial operations are being performed by a team of top heart surgeons from the University of Michigan Health, and patients will receive seamless access to the best cardiovascular care, no matter where they enter the network.
"This is one network, one program, one team," said Dr. Peter Hahn, CEO of UM Health-West. "The beginning of open-heart surgery in Grand Rapids marks a major milestone, but it's just the start of what is possible through our collaboration." 1
Trinity Health Muskegon and UM Health-West have been integral partners in developing the program, with the goal of improving access to world-class care for residents of West Michigan, particularly for those affected by cardiovascular disease, which remains the leading cause of death in the state.
Candidates for surgery are evaluated by a "heart team" of experts from all four programs, ensuring that patients receive the best course of treatment. The network's expertise currently includes coronary artery bypass graft surgery, aortic valve surgery, mitral valve surgery, treatment of aortic aneurysms, and cardiac ablation procedures.
The launch of the Cardiovascular Network of West Michigan is a positive step forward for the community, providing residents with access to top expertise and a new era of advanced cardiovascular care.
We are honored that our products are a part of this new local development and look forward to many more healthcare innovations that will take place in 2023.
We are a specialist and a market leader in the Operating Room (OR) for surgical lights, tables, and booms. Our products need to be better than just "clinically acceptable." We know that in order to remain at the top of these categories, we have to offer products that have something unique. We do this by getting continuous customer feedback. Our solutions enhance the utilization of people, facilities, and capital because they are designed with the user in mind and have a low, long-term cost of ownership.
We will close by celebrating our existing Skytron family (team) and the representative firms we are honored to work with. Products and services are essential, but a company is only as good as its people. We pride ourselves on the incredible individuals that make up our organization.
"Coming together is a beginning, staying together is progress, and working together is a success." – Henry Ford
If you are ready to join our Skytron family and be a part of something bigger than us, visit our current opportunities available.
Here are a few photos of our Skytron family enjoying our community.


Citations:
1. Leading Heart Surgeons Collaborate to Launch New Era of Advanced Cardiovascular Care in West Michigan | University of Michigan Health-West