Collaboration is essential to tackle the challenge of Infection Prevention (IP). We all know that the pandemic put a spotlight on infection control, viruses, and hospital protocols. That said, the vital role of infection preventionists is nothing new to most of us. In this write-up, we will define the role of an IP, provide you with some eye-opening statistics, and give you three ways to  partner with your IP starting today.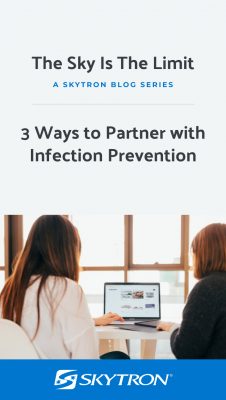 "Infection preventionists (IPs) are professionals who make sure healthcare workers and patients are doing all the things they should to prevent infections. Most IPs are nurses, epidemiologists, public health professionals, microbiologists, doctors, or other health professionals who work to prevent germs from spreading within healthcare facilities. They look for patterns of infection within the facility; observe practices; educate healthcare teams; advise hospital leaders and other professionals; compile infection data; develop policies and procedures; and coordinate with local and national public health agencies. "(1) They work in tandem with multiple clinical departments and clinical support departments like environmental services (EVS). Preventing infection within your facility is a team sport, some may even say it takes an army. We believe it takes strategic collaboration and planning to achieve the best possible patient outcomes and prevent healthcare-acquired infections (HAIs).
"According to the Centers for Disease Control and Prevention (CDC), 1 in 25 hospitalized patients will get an infection as a result of the care they receive, and an estimated 75,000 patients will die each year. Because healthcare-associated infections (HAIs) are a threat to patient safety, many hospitals and healthcare facilities have made the prevention and reduction of these infections a top priority." (1)
Here are 3 ways to partner with IP starting today.
Take the lead to bridge the gap between your department and IP
Most departments have team huddles and recurring meetings that communicate daily, weekly, monthly, and quarterly. Often this looks like an isolated meeting of the minds that include team members within your department or a direct "sphere of influence". However, if patients are involved that means multiple departments are included. Whether it be EVS, Sterile Processing, Operating Room, Risk Management, etc. Each of us are involved in the positive patient outcome, which means we must communicate on a regular basis to share best practices, and recommendations with one another.
Align common goals and positive outcomes desired
Once a routinely scheduled meeting is on the calendar, let's make the most of our time together. A great way to do this is to give each department an allotted amount of time to kick off the conversation with a list of goals, concerns, and positive outcomes they are hoping to achieve. Write these down on a whiteboard as they are expressed for each department. Once each department has spoken take a broad look at the board, circle commonalities, and choose the most prevalent concern to discuss in the meeting. Bounce ideas off each other, and see what solutions you come up with together. This not only may open you to new ideas, but it also helps you to understand the limitations other departments face. This starts a dialogue, builds comradery (and friction at times), and leaves a docket ready for the next scheduled conversation.
Understand we are all on the same team
"Knowing the staggering impact increased HAIs can have on health systems only further emphasizes how critical it is for Risk Management teams to leverage the expertise and knowledge of Infection Prevention and Control (IPAC) and Antimicrobial Stewardship teams to understand and mitigate HAIs in their care populations. Partnering through data gathering, analysis, and interpretation, providing team leaders with evidence of potential threats and communicating resource placements across teams mitigates and intercedes in the blooming HAI crisis." (2) This is one great example of the collaborative efforts Risk Management and IP can have when they work together. Bottom line is that each department within a healthcare facility has its own role, goal, and duty to the patient. Yet, we all have one common objective, and that is a positive patient outcome. We don't have to work against each other, and with increased communication and strategic collaboration we can all be stronger together for our patients.
Skytron knows the importance of infection prevention in hospitals. We also understand that keeping your facility clean and safe for your staff and patients is vital.
Explore our Infection Prevention solutions here https://www.skytron.com/products/infection-prevention/
Citations