(GRAND RAPIDS, Michigan – March 09, 2023) – Skytron welcomes The SkyVision Ascend IP as the latest addition to our Ascend platform. The Ascend IP Video Integration System brings you a user-friendly solution with qualities such as:
Unlimited number of configurable inputs and outputs
System control via touch panel and tablet
Vendor-neutral system that promotes vendor of choice for video and imaging
Fully supports SD, HD, and 4K Video signal, with 8K architecture in place for future growth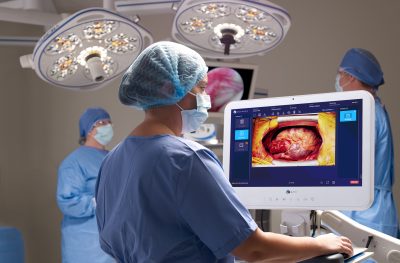 This system was designed with the intention of optimizing and customizing each room's procedural rhythm to meet the needs of the staff and thus reduce costs, confusion, and clutter.
The Ascend IP also aims to optimize workflow, focus on patient care, and complement any medical/procedural advancements. Our user interface further capitalizes on simplicity by offering a single-page layout without hidden menus intended to keep any end user, regardless of education and comfort level, focused on managing the system. The Ascend IP was also designed with the future in mind. Technology in the OR is constantly changing and advancing, and by creating a truly vendor neutral and 8K architected platform, the Ascend IP is designed to be a system for the future. By utilizing an unlimited number of configurable inputs and outputs, the Ascend IP can grow with your OR and accommodate all future devices.
Skytron's Video Integration Portfolio allows each facility's needs to be met by providing a range of systems, from basic routing solutions to complex, streaming, capturing, and archiving platforms.
About Skytron LLC: Skytron provides safe and efficient healthcare solutions delivered through a local representative network that values long-term relationships and comprehensive service. Focused on providing the highest quality solutions while delivering the lowest cost of ownership, we prioritize transparency and accountability in our actions.
To learn more, visit our website at http://www.skytron.com or email info@skytron.com