Grand Rapids, Michigan – July 8, 2022 – Skytron, a healthcare efficiency company, announces the newest addition to their continually expanding sterile processing portfolio. The Sterling C2000 Cart Washer is equipped to provide an efficient and effective way to clean surgical carts and streamline the decontamination process in the Sterile Processing Department.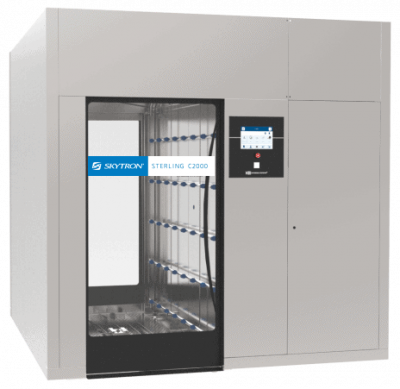 Sterling C2000 Cart Washer:
Offers a lower cost of ownership with its lower water, chemical, and electric use along with fast cycle times as compared to other washers
Noise levels as little as 63 dB, resulting in a quieter work environment
Four different sizes are available to maximize Sterile Processing Departments of different magnitudes
About Skytron LLC: Skytron is the Healthcare Efficiency Specialist, providing full-room solutions of capital equipment, architectural, and real-time information systems for Medical, Surgical, Sterile Processing, and Infection Prevention. Our solutions enhance the util­­ization of people, facilities, and capital because they are designed with the user in mind and have a low, long-term cost of ownership.