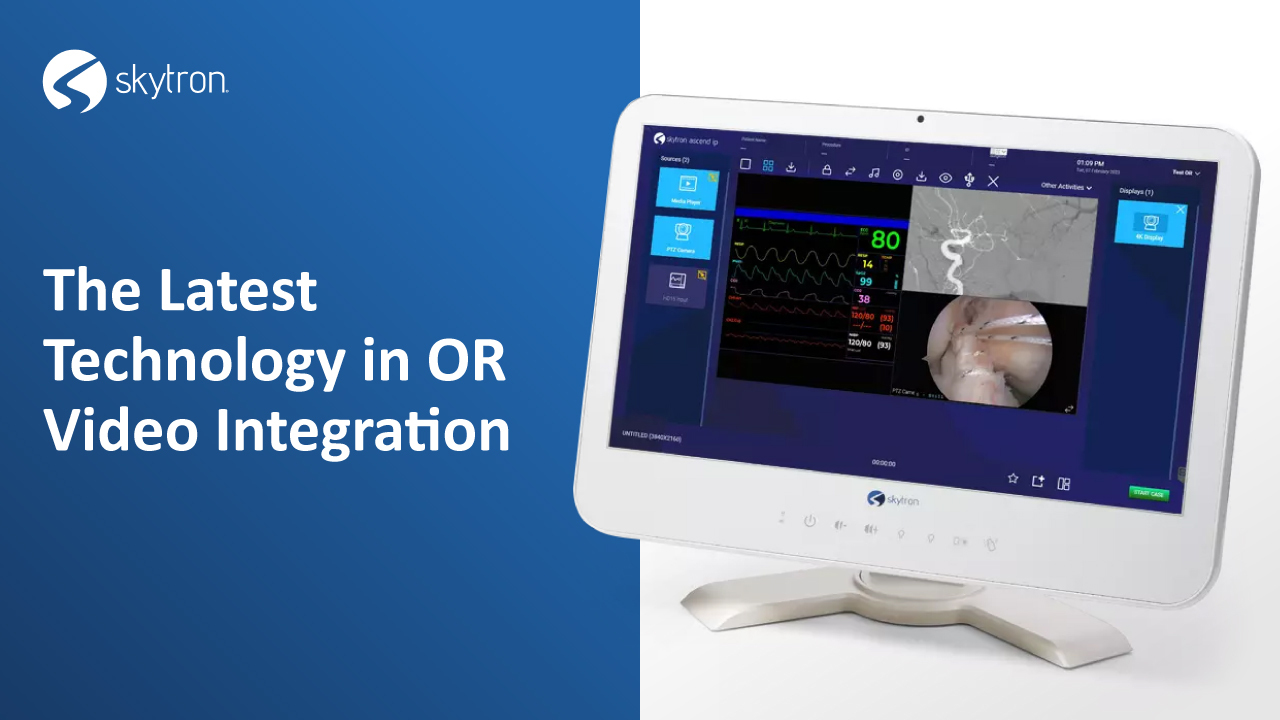 As the demands on healthcare continue to increase, there is an increasing emphasis on optimizing processes to improve efficiency and enhance patient outcomes. One area where technology is driving these is in the operating room (OR), where OR integration technology is becoming increasingly sophisticated. At Skytron we work to remain at the forefront of this trend, continually innovating our products to enhance surgical efficiency and patient outcomes.
OR integration technology involves the integration of various devices and systems in the OR, such as surgical lights, anesthesia machines, video cameras, and medical imaging systems. This integration enables surgeons and their teams to monitor and control all aspects of the surgical environment from a single interface, allowing for greater efficiency, precision, and control.
One of the latest advancements in Skytron's OR integration technology is the Ascend IP, released to the market on March 09, 2023. The Ascend IP Video Integration System brings you a user-friendly solution with qualities such as:
Unlimited number of configurable inputs and outputs
System control via touch panel and tablet
Vendor-neutral system that promotes vendor of choice for video and imaging
Fully supports SD, HD, and 4K Video signal, with 8K architecture in place for future growth
This system was designed with the intention of optimizing and customizing each room's procedural rhythm to meet the needs of the staff and thus reduce costs, confusion, and clutter. To learn more and read the full press release visit PRWeb | "Skytron Introduces the Ascend IP to the Surgical Market"
Imaging solutions, within our SkyVision Digital Video Integration Systems, provide real-time video streaming and recording of surgical procedures, allowing for greater collaboration between surgical teams and improving post-operative analysis. This technology also allows for remote viewing of procedures, which is particularly useful for training and education purposes.
In addition to visual integration, our OR integration technology also includes audio integration. The Skytron Audio System provides high-quality audio for communication between surgical team members, reducing the risk of miscommunication and improving the efficiency of the surgical process.
Perhaps the most significant advancement in Skytron's OR integration technology is the ability to customize the interface to suit the specific needs of individual surgeons and surgical teams. This system allows surgeons to create customized user profiles, which can be accessed from any workstation in the OR. This customization ensures that surgeons have access to the information and tools they need, improving efficiency and reducing the risk of errors.
Overall, the benefits of Skytron's OR video integration technology are clear. By streamlining the surgical process and improving communication and control, this technology is helping to improve patient outcomes while also reducing costs and increasing efficiency for healthcare providers. But what impact is this technology having in the real world?
Several studies have demonstrated the benefits of OR video integration technology in improving surgical efficiency and patient outcomes. For example, a study published in the Journal of the American College of Surgeons found that the use of OR integration technology reduced surgical times by an average of 18 minutes, resulting in a 5.5% reduction in hospital costs. Another study published in the Journal of Laparoendoscopic & Advanced Surgical Techniques found that OR video integration technology improved the accuracy of surgical procedures, resulting in fewer complications and a reduced need for follow-up surgeries.1
Of course, the benefits of OR video integration technology are not limited to surgical efficiency and patient outcomes. This technology also improves the working conditions for surgical teams, reducing the risk of physical strain and injury. Additionally, by reducing the need for manual controls and the handling of physical devices, OR video integration technology reduces the risk of contamination and infection in the OR.
In conclusion, the latest advancements in Skytron's OR video integration technology are transforming the surgical process, creating more room for technology as it evolves, and promotes a more user friendly configuration . By integrating various devices and systems into a single interface, this technology is streamlining the surgical process and allowing surgical teams to work more effectively and collaboratively. As technology continues to advance, it is clear that OR integration technology will play an increasingly important role in improving healthcare delivery and patient outcomes.
To learn more about Skytron's Clinical Business Intelligence and Video Integration solutions, visit Skytron | Video Integration
Citations:
1. Journal of Laparoendoscopic & Advanced Surgical Techniques | "Comparison of the Effect of Laparoscopic and Abdominal Hysterectomy on Lower Urinary Tract Function, Vaginal Length, and Dyspareunia: A Randomized Clinical Trial"