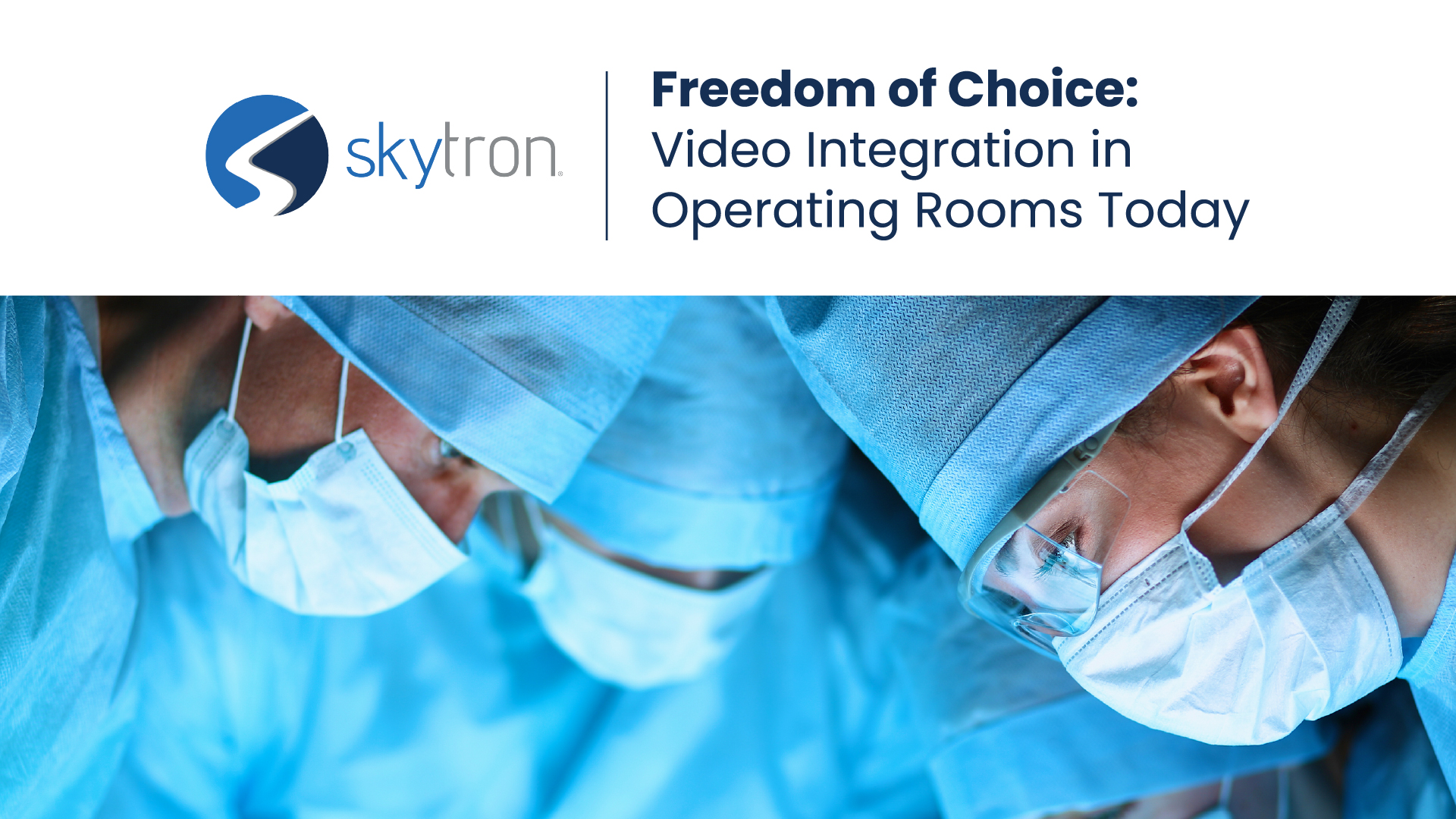 Freedom of Choice: Video Integration in Operating Rooms Today
As the healthcare landscape continues evolving with growing demands, it's becoming more and more crucial to focus on streamlining processes and maximizing efficiency to improve patient outcomes. Nowhere is this more evident than in the operating room (OR). At Skytron, we are committed to being at the forefront of this transformative trend, persistently innovating our products to elevate surgical efficiency and enhance overall patient outcomes.
The OR can feel like a battleground where your clinical staff works tirelessly to save lives and improve patient outcomes. Hospitals and ASCs must innovate as they continue to increase daily complexity. In ORs, we house an array of cutting-edge equipment and systems.
With each innovation comes increased complexity; with multiple original equipment manufacturers (OEMs) that have unique visual information provided by multiple operating systems and the need for better streamlined processes that allow users to input any visual information on the screen providing surgeons what they want to see, where they want to see it. The combination of advanced technology and OEM intricacies can be a blessing and a challenge for the clinical staff navigating the tech.
It can add unneeded pressure during cases, and the need for seamless access to real-time data from various devices has never been more necessary. Discrepancies in the formats and systems can lead to confusion and hinder efficient decision-making with all the moving parts.
The Game Changer
Integration systems are the unsung heroes that bring consistency to the bustling OR—acting as a bridge that unites multiple devices and streamlines communication and functionality. What is the result of a quality video integration system, you ask? It is a synchronized environment where clinical staff can focus on what they do best – saving lives.
One of the latest advancements in Skytron's OR video integration technology is the Ascend Eco, released on July 19, 2023. The Ascend Video Integration System brings you a user-friendly solution with system control via a touch panel, a vendor-neutral system that promotes the vendor of choice for video and imaging and supports SD, HD, and 4K Video signals. Within our SkyVision platform, two out of three of our solutions are 8k ready.
The primary aim of designing the Ascend Eco system is to optimize and tailor the procedural rhythm of each room according to the staff's specific requirements, ultimately leading to reduced costs, confusion, and clutter. This addition to our portfolio is an ideal fit for the ASC looking for a budget-friendly integration system that can help streamline processes but doesn't have the capital budget of a healthcare system.
To learn more and read the complete press release, visit here.
Freedom of Choice
When we developed our line of entire SkyVision video integration systems, consisting of three options ranging from the simple solution above to your most complex hybrid OR, we had you in mind. We came to your facilities and performed multiple usability studies taking insights from clinical teams and surgeons to develop systems that ease the burden in your cases. For example, a nurse circulator will work in multiple rooms, with varying case specialties and multiple equipment manufacturers, depending on surgeon preference and what specific cases call for. Whether it be Robotics, Open Heart, General, Neuro, or Ortho-a single system is needed to make sure every device is working seamlessly together so that teams can have a user-friendly approach that optimizes workflow and works for you, not against you.
With SkyVision Ascend video integration systems, we've catered to you with the following:
We want to take what is relevant to your surgeons and teams and cater specifically to the unique challenges you face.
Embracing video integration is no longer just an option; it's necessary for any forward-thinking healthcare facility. By investing in these solutions, your hospitals and surgical centers can elevate their capabilities and deliver unmatched patient care.
So, to all the clinical staff out there – it's time to celebrate the power of video integration in the OR. Together, let's unlock new possibilities and create a future where technology enhances, rather than hinders, the pursuit of better patient outcomes. Let us embrace integration and revolutionize the way we save lives.
Here's to a future of seamless collaboration, smarter decisions, and improved patient outcomes!
To learn more about Skytron's Clinical Business Intelligence and Video Integration solutions, visit here.